Delia Hughes murder: Forensic search at Southampton flat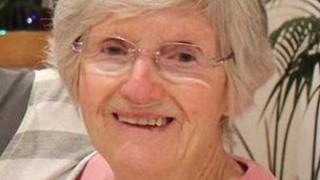 Forensic tests will be conducted on several hundred items recovered from the flat of murdered Southampton great-grandmother Delia Hughes.
Detectives hope they will provide a breakthrough in the investigation into her death on 18 August.
Ms Hughes, 85, was found beaten to death inside her Atlantic Close flat in Ocean Village.
The first batch of results are expected this week but it may be several months before all are returned.
Hampshire Police said teams of forensic science officers had conducted a "painstaking" search of the flat for any potential evidence.
'Every resource available'
Det Supt Tony Harris hopes their work will provide vital clues to who committed the crime.
He said: "We are doing everything we possibly can to identify the offender and bring them to justice but it can sometimes be a slow process.
"However, we are unrelenting in our quest to achieve the breakthrough we need and are confident it will come.
"We are using every resource available to us and have brought in various experts or specialists from across the country to assist us."
Police are still trying to identify a man seen in the Ocean Village area on the day of the murder.
Described as white, aged between 25 and 30, he appears to have travelled from the Woolston area of Southampton.
A CCTV image released on Friday shows him on Bridge Road around 08:00 BST. He was later sighted leaving Atlantic Close about 09:30 BST.
Previously released footage saw the same man in the area of Atlantic Close and Ocean Village at 08:20 BST.
He was described as being "nimble and bouncy on his feet" and about 5ft 8in (1.7m) to 5ft 10in (1.8m) tall.
He was wearing a grey hooded jacket, faded blue jeans, trainers and carrying a small black rucksack.
A 29-year-old woman and a 37-year-old man arrested on suspicion of murder have been bailed pending further inquiries.