Bristol couple sentenced for helping hula dancing benefit cheat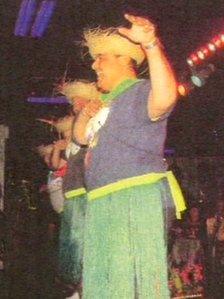 A mother and son who helped a benefit cheat fraudulently claim almost £100,000 have been sentenced.
Jacqueline Taylor, 65, and Jason Gubb, 47, both from Bristol, were employed as care workers of Abdul Esfandmozd.
Taylor was jailed for four months while her son received a suspended sentence at Portsmouth Crown Court.
Esfandmozd, of Portsmouth, pretended to use a wheelchair but was filmed hula dancing and diving into a swimming pool while on holiday.
He was jailed for four years earlier this month
For 10 years he claimed he was severely disabled and incapable of standing or walking except with crutches and reliant on a motorised wheelchair for mobility.
He obtained the direct payments from Portsmouth City Council on top of other benefits from the Department for Work and Pension (DWP), which totalled more than £140,000.
Portsmouth Crown Court heard he employed Taylor and Gubb as his care workers between 2000 and 2002.
Over that time Esfandmozd bought two properties and premium bonds with the help of Taylor and Gubb and their accounts.
The Crown Prosecution Service (CPS) said that when Taylor was arrested she had £70,000 of Esfandmozd's money in her possession.
Both Taylor and Gubb pleaded guilty at an earlier hearing to offences under the Proceeds of Crime Act.
Gubb said after his sentencing that he thought Esfandmozd was disabled, despite footage shown of them on holiday wrestling and rugby tackling each other to the ground.
He said: "Yes, I did think he was disabled. I still say that now, I thought he was disabled but obviously he wasn't.
"I say this now and I'll say it again - I'll will never ever do this again."
Throughout his trial, heard earlier in the summer, Esfandmozd remained in his wheelchair and continued to claim he was severely disabled.
But the jury saw six hours of his home videos filmed on trips abroad which showed him walking long distances, swimming, dancing and carrying a woman in his arms with no apparent physical difficulty.