Basque children of Southampton in new film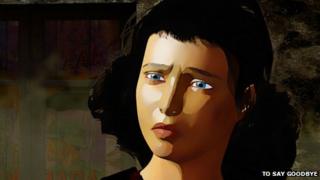 The story of child evacuees from the Spanish Civil War who fled to Southampton is being told in a new animated feature film.
In 1937, 4,000 Basque children were sent to the UK on the SS Habana from Bilbao by their parents.
The 75-minute animation, To Say Goodbye, has used recordings of the evacuees' testimonies and memories.
Screenwriter Izaskun Arandia said telling their story in an animation would interest a new generation in what the Basque children endured 75 years ago.
'In tears'
After the bombing of Guernica in the Basque region of northern Spain in April 1937, churches, cooperatives and members of the Communist party helped evacuate children to the safety of Britain.
The 3,861 youngsters, along with 95 women teachers and 15 Catholic priests, arrived in Southampton on the SS Habana on 23 May and were housed in a temporary camp at North Stoneham, Eastleigh.
Screenwriter Izaskun Arandia was researching the story of the evacuations when she came across audio interviews with some of the surviving children as adults carried out by Dr Alicia Pozo-Gutierrez of the University of Southampton.
"I was completely floored and was in tears," she said.
"The minute I heard the interviews I knew the voices needed to be in a film, somehow."
Most of the children returned to Spain after two years. Ms Arandia chose to focus the film on 14 of the 250 children who never returned to Spain.
'Very personal'
Some had no families to return to, and when World War II started, they were classified as "aliens" and not allowed to leave the UK.
Ms Arandian said: "People can tip-toe around Spanish history when it comes to the civil war. I'd heard of the evacuations but I never knew 250 never returned - that fact alone was so powerful."
"They feel they were forgotten. The ones that returned by 1939 got more recognition than those who didn't come back - now is the time [for them to] get that recognition," she insisted.
Maria Luisa Toole was sent to England with her younger brother at the age of 11, after her father was killed in the civil war fighting.
They were the last two children to be put on the SS Habana.
"We arrived and no-one could understand what we were saying but people were extremely friendly," she said. "I just remember the double decker buses which we had never seen before"
She was moved to a "colony" in Cambridge and eventually married a man from Bolton and settled in the north west. She has since had four children and three grandchildren.
Now 86, Mrs Toole plans to attend the premiere of To Say Goodbye at the San Sebastian Film Festival later this month.
She said it will be "a bit emotional".
"It's very personal - a lot of people want to know about what happened and the film will help them understand," she said.
With no public funding for the film, finance has come from the production team itself as well as loans from friends and family and an online crowd funding website.
"I'm really really disappointed by the lack of interest from Spanish and British institutions," said Ms Arandia.
"But I was absolutely determined to make the film this year [for the 75th anniversary].
"It looks very sharp and modern. Although it happened 75 years ago, hopefully it will connect with a younger audience who will become interested in the history.
"These 4,000 children just turned up in Southampton and it was the local people that helped them - they were just incredible."
The production team is hoping the screenings at the San Sebastian festival will lead to a UK distribution deal.