Couple's 'singled out' over Delia Hughes murder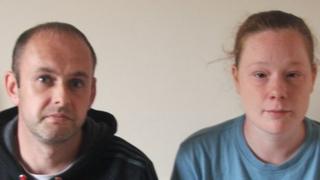 A couple arrested on suspicion of murdering their Southampton neighbour have claimed they were singled out because they were on benefits.
Delia Hughes, 85, was found beaten to death at her Atlantic Close flat in the Ocean Village development on 18 August.
Tim Tritta, 37, and Crystal O'Dell, 29, were arrested over her death but have now been released from bail.
Jamie Boult, 24, of Chessel Crescent, Southampton, is charged with the great grandmother's murder.
Miss O'Dell said: "Tim was arrested because he didn't have a good enough alibi, he'd stayed in on the night of the murder."
Miss O'Dell was later arrested in Harefield where she was staying with friends because police were treating their flat as a crime scene.
"They thought I was covering for him," she said.
"At one point, I thought 'What if Tim did it?', but I've known him for five years and know he couldn't have.
"I didn't get out until the following day so my sister had to look after my boy," said Miss O'Dell, who admits she has previously been arrested for being drunk and disorderly and assault.
Mr Tritta, who admits he has past convictions, but none for violence, said: "I was speechless, you don't think it's reality," he said.
"I'd never even seen Mrs Hughes before."
'Rot in hell'
The couple accused detectives, who told them they suspected their "motive" was the need to pay off debt, of being "judgemental".
"We're the only residents in the flats on benefits so we're the odd ones out... we stick out like a sore thumb," she said.
"We're in debt but we'd never do anything like that. Tim has two nans, we're not capable of murdering someone."
Miss O'Dell's voice falters when she recalls how people "stared and pointed" at her following her arrest.
"There was also people, supposed to be our friends, saying nasty stuff on Facebook like 'rot in hell'."
A Hampshire police spokesman said: "The two people who were earlier arrested and bailed in relation to the murder of Delia Hughes have now been officially released without charge."
Mr Boult appeared at Southampton Magistrates' Court earlier and was remanded in custody.
He is due to appear before Winchester Crown Court on Thursday.
Mrs Hughes was originally from Blackpool in Lancashire but had lived in Southampton for the past 17 years.