World's Toughest Mudder 'opportunity of a lifetime'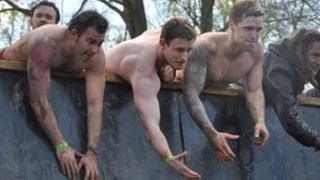 Organisers say it is "probably the toughest event on the planet" and for one Hampshire man it is the opportunity of a lifetime.
In November Malcom Allisson will travel to New Jersey to take part in a 24-hour endurance assault course.
His mission is to become the world's "Toughest Mudder".
He is taking part in the final of a worldwide series of endurance challenges that were started in America by Will Dean and Guy Livingstone.
They based their Mudder events on activities designed by British Special Forces to test fitness, stamina, mental strength and camaraderie.
'Total shock'
The standard course is a half-marathon over 25 different obstacles and Mr Allisson took part in the first one held in the UK.
When he uploaded his time after the event in May near Kettering, he discovered he had finished in the top 5% which qualified him for the American final.
"It was a total shock," said Mr Allisson.
The 38-year-old ambulance medic from Bordon claims not to do much training for these kind of events.
"I know it sounds a bit bizarre," he said.
"It's in no way meant to sound big headed, but I sign up to these things, then I get really lazy with training. I end up just giving it a crack and I tend to do quite well."
But he realises November's challenge will be on a different scale.
The exact hurdles are not revealed until a week before the race but if they are anything like previous events they will include 12ft walls, 4ft flames, electric shocks and lots of mud.
"The body's not getting any younger so it's a once-in-a-lifetime opportunity," Mr Allisson said.
"I am training for this. I think I'd be doing myself a bit of a disservice if I didn't."
'Bitterly cold'
One of his least favourite trials at the Kettering event was the Ice Enema which involved diving into a vat of freezing water filled with ice cubes and swimming under a barbed wire.
But this will be as nothing compared to the bitterly cold temperatures he is likely to face in New Jersey - last year the 800 qualifiers started in temperatures of about -6.7C (20F).
The final is also held over a 24-hour period which means contestants need to consider how to pace their race, whether they go flat out during the day and rest at night or keep up a steady pace.
It is not just the elements that Mr Allisson needs to consider, it costs about $500 to enter on top of flights and accommodation, but like the 35 other Britons flying to the USA in November, he is driven to prove he is one of the World's Toughest Mudders.