'Largest lobster' saved from the pot in Portsmouth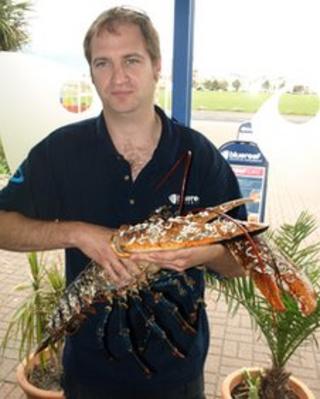 A huge lobster spotted on ice at a Portsmouth fishmonger is living in a public aquarium after being donated by two off-duty commercial divers.
Mark Corp and his friend Mark Reed, who work for BAE Systems at Portsmouth naval base, said it would have been "criminal" to see him go to the pot.
The pair paid £100 for the 7kg (15lbs 4oz) crustacean they call Marky Mark.
Staff at Portsmouth's Blue Reef Aquarium, where he is displayed, say he is the largest lobster they have seen.
Lobsters are difficult to age accurately but the aquarium's Robbie Robinson said Marky Mark looked to be at least 50 years old.
Some scientists believe if left undisturbed lobsters can live indefinitely.
The National Lobster Hatchery in Padstow, Cornwall, says the largest specimen on record weighed in at 9.3kg (20lb 8oz) and was caught in 1931 in Fowey, Cornwall.
Mr Corp said: "We're divers and we've caught a lot of lobsters over the years that we've eaten.
"We love lobster and we'd have love to have eaten him but he was so big we thought it would be criminal to see him go like that.
"He's the biggest lobster we've ever seen and Mark [Reed] used to be a fisherman.
"He has never seen one that big so we are just pleased that we were able to take him somewhere he can live and the public can go enjoy him."