Delia Hughes death: Crime profilers help murder police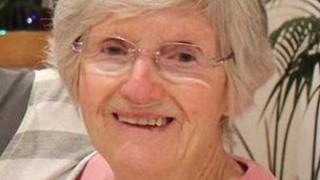 Detectives investigating the murder of an elderly woman in Southampton are to bring in crime profilers to help with the inquiry.
Delia Hughes, 85, was found by a family member at her seafront home in Atlantic Close, Ocean Village, on Saturday.
The profilers will harvest information from the crime scene.
Two men and a woman have also been identified as potentially significant witnesses who detectives are keen to talk to.
Referring to the profilers, Det Supt Tony Harris said: "The analysis provided by these experts will help the investigation team to understand more about the crime and how it was committed."
He added: "We know there was considerable movement of people through the marina last weekend with many of them having sailed across to or back from Cowes at the end of Cowes Week.
"A large number of these people do not live locally and may be unaware that the murder took place so close to where they moored their boat.
"We will therefore try to speak to as many of them as possible during the coming weekend to see if they have any information that will be of interest to us."
Man with crutches
The first person police would like to speak to was seen by a resident of Atlantic Close around 09:30 BST on the day Mrs Hughes was murdered.
The man, with a slim build, is not thought to be a resident of the area and was spotted walking from Atlantic Close towards Tasman Close.
Described as white, aged between 25 and 30 and around 5ft 8in (1.72m) tall, he was wearing a blue or dark grey hooded jacket or cagoule with a zip at the front.
Police are also looking to trace a couple seen in the area in the days before the murder.
The man, aged in his mid to late 20s and around 5ft 9in (1.75m) tall, appears to have a foot or leg injury as he walks with crutches and plaster cast on his right leg.
Speaking with a local accent, he was seen wearing jeans and a T-shirt and is described as medium build with short unkempt facial hair.
The woman seen with him is described as white with long dark straight shoulder-length hair and approximately 5ft 5in (1.65m) tall.
'Cruel and pointless'
Det Supt Harris added: "Details about these people has come to us from members of the public.
"It's essential we identify and speak to them, as potentially, they could hold vital information that will assist the inquiry team."
Mrs Hughes was originally from Blackpool but had lived in Southampton for the past 17 years.
The retired Littlewoods supervisor, who had one daughter, two grandsons and three great-grandchildren, lived alone in her flat in Ocean Village development.
Mrs Hughes' son-in-law described the killing as "cruel and pointless".
A 29-year-old woman and a 37-year-old man arrested on suspicion of murder have been bailed, pending further inquiries.
Hampshire Constabulary said a cordon set up around the scene had been scaled back, allowing more residents unrestricted access to their homes.