Harry Uglow 'youngest' to row across English Channel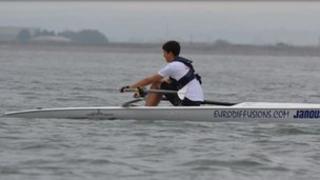 A 15-year old Hampshire boy is thought to have become the youngest person to row solo across the English Channel.
Harry Uglow, from Botley, completed the 25.5m (41km) trip in four hours and 38 minutes, despite capsizing after hitting a squall off the French coast.
The Guinness Book of Records does not monitor the record.
But Mike Gilbert, who trained comedian John Bishop to achieve the same goal, said Harry was the youngest solo rower to make the trip he knew of.
'Rolled completely over'
The teenager who is 6ft 3ins tall and weighs 81kg (12st 10lb), started the crossing on Sunday in bright sunny conditions but ran into fog, before the wind picked up and he was forced to deal with 5ft (1.5m) waves.
Harry said: "We arrived there, on Friday it was, and on Saturday it was a bright sunny day… but the wind was picking up in the afternoon.
"On Sunday morning it was quite hot and the sea was still flat and I did the first half of the crossing really quite quickly.
"About 15 or 16 miles in it had been quite foggy but still quite flat, but then the wind picked up and I got quite a lot of chop for about half an hour which ended in me falling in.
"Thankfully after I managed to get back in the boat - which actually rolled completely over - which I hadn't managed to do in capsize drills. I managed to get it back upright and get back in and kept going."
Mr Gilbert, who has worked with Harry since October 2011 to prepare him for the crossing, said it was remarkable for someone so young to make the journey.
"He is an exceptional young man that has undertaken an exceptional challenge," he said.
Harry took on the feat to raise money for the Make A Wish Foundation after it helped his younger brother, Oliver, while he had leukaemia.
Harry has so far raised more than £12,000 for the charity.
His mother Lyndsey Uglow said: "I relieved it's over and he is back safely. I'm very proud of him."