Portsmouth fans write to Chainrai to urge takeover talks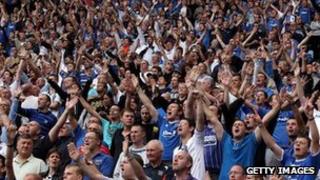 The Pompey Supporters' Trust (PST) has appealed to former owner Balram Chainrai to help them secure the future of Portsmouth Football Club.
The Trust has urged the businessman to discuss its bid and allow an independent valuation.
In a letter to former owner Chainrai, the PST said: "If Pompey dies now, the heart of a city dies with it. We will not allow that to happen."
Chainrai withdrew a bid to buy the League One club on Wednesday.
Trevor Birch, the administrator charged with looking to find new owners for the club, had managed to offload a number of high-earning players such as Tal Ben Haim, Liam Lawrence and Dave Kitson to push through a sale.
'Fighting chance'
However, Hong Kong based businessman Chainrai revealed he was no longer interested in a takeover deal.
Now only the Supporters' Trust remain as prospective buyers.
The PST have offered Chainrai £2.75m for the ground - which is still owned by him.
In the letter, the PST wrote: "The Trust has a fully costed and funded bid on the table of the Administrator.
"It can make a realistic offer to your company and other creditors which will ensure the club stands a fighting chance of emerging stronger than ever."
Fans held a peaceful demonstration in support of the club before Saturday's game against Bournemouth at the gates of Fratton Park.