RMT protests in Southampton over cruise ship wages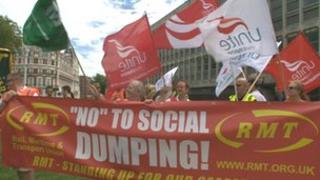 Ferry and cruise ship companies have been accused of underpaying overseas workers, at a protest in Southampton.
Members of the RMT union say non-EU workers on ships sailing from UK ports are paid lower wages than colleagues.
It called for an end to ships operating in international waters being exempt from UK minimum wage legislation.
Cruise company Carnival UK insisted its pay and conditions "meet and exceed all requirements of international employment regulation".
"The shipping industry is a globally competitive industry which recruits seafarers from across the world," a spokesman added.
The RMT accused Condor Ferries of paying Ukrainian workers £2.35 an hour working 12 hours a day for three months on cross-channel ferries.
70p an hour
It called the practice "social dumping".
A spokesman for Condor ferries said only 14 out of 50 Ukrainian-recruited crew members earned the "entry-level" pay rate and those with specialist skills were paid higher.
"All of our Ukrainian crew benefit from free transport to and from Ukraine, food, comprehensive medical and dental cover and all food and lodging during their 12-week stay on board with no deductions.
"Even those who are paid at the entry level earn around four times the national average wage in Ukraine," he said.
The RMT also said junior waiters from India working on Southampton-based P&O cruise ships, owned by Carnival UK, were paid 70p an hour.
Bill Gibbons, of the Passenger Shipping Association, said: "All our labour on board is actually governed by international regulations by the Maritime Labour Convention and they are paid very, very competitive rates, compared to what they would get back in their home country."