Winchester map shows Georgian history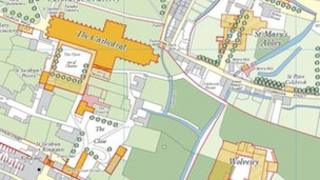 Visitors to Hampshire's county town are able to see what it looked like in the 1800s following the release of a new map.
The historical plan of Winchester is an offshoot of a much bigger project charting the entire history of the city going back to about 600 BC.
Professor Martin Biddle has been involved in excavations there since the early 60s.
He said the guide was a "mine of information for family historians."
Work excavating parts of the city, which has been occupied since the pre-Roman Iron Age, began in 1962.
"It's probably one of the best documented towns in the country," said Professor Biddle.
'Jane Austen'
The full results of the extensive excavations will be published next year as an A3 Atlas of Winchester with a series of maps charting the city's history.
After the Norman Conquest it was home to the second largest mint in the country and over 5,500 coins made there have been found and catalogued.
This pocket-sized map that is being published in advance of the main book shows the entire city inside the walls at the time of George III when Jane Austen lived there.
"I think people will see a city that is beginning to look like it does today," said Professor Biddle. "But it was at a time before the railway arrived so there is a lot of space."
"They can also find out where the public loos where if they want to and also where the county hospital was.
"There are a huge number of places listed in the gazetteer including an incredible number of churches."