Charles Dickens' relatives arrive in Nickleby's footsteps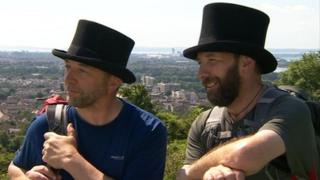 Two great great grandsons of Charles Dickens have reached Portsmouth after a walk from London in the footsteps of two of the author's characters.
But Ian Charles Dickens and brother Gerald only raised about £3,000 of the £10,000 they hope to raise for charity.
They left London on Sunday and walked to the author's birth city, like Nicholas and Smike did in The Life and Adventures of Nicholas Nickleby.
Funds raised will help fund the UK's first Dickens statue in Portsmouth.
It had been planned for the author's bi-centennial year, but is delayed until 2013, as £50,000 of the £120,000 must still be found.
Top hats
Ian, of Portsmouth, and Gerald, of Abingdon in Oxfordshire, walked 15 miles a day to complete the 75 miles (120km) to arrive at Guildhall Square.
They brought to life one of their ancestor's most famous novels, which centres on Nicholas Nickleby, who must support his mother and sister after the death of his father.
He and another boy, Smike, set off on a walk to the south coast city, with the intention of becoming sailors.
It is the only one of the Victorian author's works to feature Portsmouth, where Dickens was born in 1812.
As they entered the city, Gerald said: "It's been absolutely brilliant - people driving past in their cars and waving and hooting.
"And the top hats have been a bonus, that's been our trademark. We've become the 'Dickens boys', like a sort of travelling country band.
Ian said that during the walk they had met characters who were Dickensian themselves.
'Fantastic breakfast'
"For the first six miles it was like we were invisible," he said.
"We've got top hats on, we've got backpacks, we've got large posters on our backs and people completely ignored us.
"Then eventually in Chelsea a very well off, affluent, lady finally plucked up courage and asked what we were doing.
"She was terribly impressed and reached into her very expensive purse and gave us a whole pound."
But, Ian said, when they reached Petersfield the landlord of the Folly pub not only served them a "fantastic breakfast" but also gave them two small bottles of sparkling wine so they could celebrate their arrival later.
They hope to reach their £10,000 target for the National Literacy Trust and Charles Dickens Statue Fund in the next few days.