Body recovered from sea near Portsmouth harbour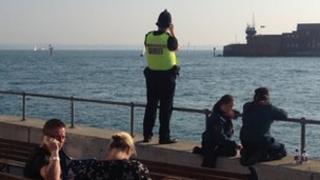 A man's body has been found in the sea near Warner Buoy outside Portsmouth Harbour, police have confirmed.
The body was taken to hospital where formal identification and a post-mortem examination are due to take place.
The discovery comes after the disappearance on 26 July, of Marco Araujo, 33, as he helped rescue children from the harbour.
Hampshire Police said Mr Araujo's family were being kept informed, but the body's identity was not confirmed.
Mr Araujo, from Grafton Street, Portsmouth, was last seen in the water near Tower Street.
He and another man entered the water near the Portsmouth Harbour entrance, when the two girls got into difficulties.
The two youngsters, aged four and 10, and the other man made it safely back on to dry land.
A shoreline search was conducted but was stood down after nothing was found, the coastguard said.
The discovery of the body is not being treated as suspicious, police said.