Listing appeal to save Continental Booking Office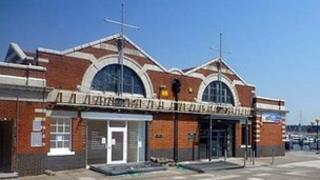 English Heritage has been asked to list and protect a former ticket office that is due to be demolished to make way for a £74m housing development on Southampton's waterfront.
The Continental Booking Office, which dates to the 1920s, is due to be knocked down in August to make way for the scheme at Ocean Village.
It will include a 26-storey tower - Southampton's tallest building.
But John Halsall, who lives in Southampton, has asked English Heritage to protect the building by listing it.
He called the decision to demolish the building was "disgusting" when it would be making way for flats the area "did not need".
"During the war, ships used to dock at the port and they made Spitfire planes close by so you can imagine it was something of a target for the Germans and the area was obliterated," he added.
"The Continental Booking Office is the only old building still standing in the area," he said.
The waterside building originally catered for passengers heading to France on the old cross-channel steamers.
Allied Developments wants to build the 80m (269ft) tower, with 299 homes at Admiral's Quay in Ocean Village.
The scheme includes two smaller blocks and about 2,800 sq m (30,000 sq ft) of retail and restaurant space.
When the planning application was approved by the council in January English Heritage said it was happy for it to go ahead if the condition of the Booking Office was recorded prior its demolition.
A spokesman for English Heritage confirmed it had received Mr Halsall's application and would be considering it.
Allied Developments declined to comment until English Heritage had reached a decision.