Mission to recover sunken HMS Hood's bell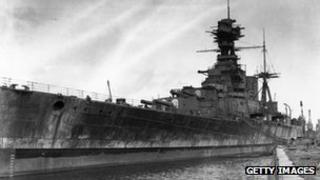 The bell of sunken World War II battle cruiser HMS Hood could be returned to Portsmouth if a new recovery effort is successful.
Experts will attempt to recover the bell which was on the ship when it was sunk by the battleship Bismarck in the North Atlantic in 1941.
The Ministry of Defence (MoD) said US philanthropist Paul G Allen had offered to recover the bell at no cost.
If recovered, it will go on display at Portsmouth Historic Dockyard in 2014.
A yacht owned by Mr Allen, who is a co-founder of Microsoft, will be equipped with a remotely operated vehicle (ROV) for the operation.
Shipwreck investigation company Blue Water Recoveries, which found the wreck 2,800m underwater in 2001, will co-ordinate the recovery and film the wreck.
'Courage and personal sacrifice'
The bell is known to be lying on the seabed well away from the ship's hull which will not be disturbed by the recovery operation.
If the recovery mission is successful, the bell will be put on display at a new exhibition hall due to open at the Royal Navy Museum.
Rear Admiral Philip Wilcocks, president of the HMS Hood Association, said: "Future generations will be able to gaze upon her bell and remember with gratitude and thanks the heroism, courage and personal sacrifice of Hood's ship's company who died in the service of their country."
The government has licensed the recovery of the bell - as well as providing a memorial, the recovery will prevent it being taken by any illegal operation for personal gain, an MoD spokesman said.
Portsmouth-based Hood was the largest Royal Navy vessel to have been sunk.
With 1,415 killed, it was the biggest loss of life suffered by any single British warship and a major shock during the war.
It was the flagship of the fleet and part of a force ordered to engage the Bismarck off Greenland, which was finally sunk by Royal Navy ships and the Royal Air Force on 27 May 1941.