Hampshire's Ageas Bowl cricket ground plan approved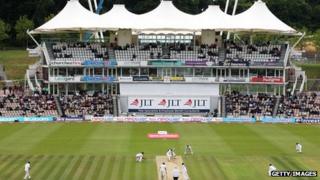 The redevelopment of Hampshire's Ageas Bowl cricket ground will go ahead after Eastleigh Council agreed to invest £38.5m in the scheme.
The council intends to recoup a profit from rent paid by tenants including the cricket club and a Hilton Hotel.
Campaign group The TaxPayers' Alliance said it was wrong for council money to be used to build hotels.
But the council said its spread of property investments had helped it avoid making cuts.
Previously a consortium of hoteliers, who were not involved in the ground redevelopment plans, challenged the council's decision to invest public money in the project.
Golf course
After a first bid for a judicial review failed they appealed but the council now says their concerns have been dealt with.
The plans are part of a £48m revamp of the West End venue, to make it the UK's second largest Test ground.
A 175-bedroom hotel and conference complex is part of an overall project which will also see the construction of new stands and an 18-hole championship golf course.
Godfrey Olsen, leader of the minority Conservative group, said he was concerned whether the cricket club could pay the £420,000 a year it would be asked to pay given it was currently losing money.
Mr Olsen also agreed with The TaxPayers' Alliance and questioned whether it was appropriate for a local council to be "building and owning a hotel or bailing out a cricket club".
He said the money could be better spent building council houses, adding: "It's too big for Eastleigh and it's too risky for Eastleigh."
'Preferential rates'
But council leader Keith House said it was not bailing out the cricket club over its losses, but was investing in a new facility as a landlord.
The council can borrow at preferential rates of around 0.5% and said it expects a return of 7.5%. It plans to pay back the loan after 16 years and will not hand over the bulk of the money until the hotel has been built, in about 18 months.
Mr House said: "This is a very significant scheme for the borough and it is important that we have taken the time to ensure that outstanding issues have been resolved.
"I look forward to the start of work on site as soon as possible, so that people and businesses in the borough can begin to enjoy the benefits of this investment."