Yachts return to Southampton after Round the World race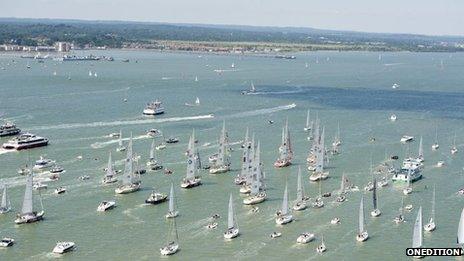 Yachts competing in the Round the World clipper race have returned to Southampton.
The 10 masthead cutters arrived at Ocean Village after the 40,000-mile (64,500km) race.
A day of celebrations marked their return after 51 weeks. More than 500 amateur sailors from 40 countries took part.
Gold Coast Australia won the race overall, crossing the finish line off the Isle of Wight at 04:07 BST.
All 10 yachts were accompanied up Southampton Water by a flotilla of craft.
BBC reporter Neil Sackley, who was on the water as the yachts sailed in, said: "It was an incredible sight. The flotilla of ships of all shapes and sizes was packed with family and friends welcoming the crews back."
The Singapore took second place in the final leg, beating De Lage Landen by seven seconds.
The yachts, all with identical specifications, were sponsored by cities and regions including New York, Derry-Londonderry, Edinburgh, Yorkshire and Qingdao.
Skipper of Singapore, Ben Bowley, said: "It's been one of the most epic years of my life. Being here after a year's sailing is an incredibly exciting experience."
The yachts were led in double arrow formation up Southampton Water by Sir Robin Knox-Johnston in Suhaili, the yacht which he sailed when he became the first non-stop solo circumnavigator in 1968-69.
Sir Robin said the competitors, most of whom had little sailing experience before getting involved in the race, "exude self-confidence from taking on nature in the raw".
Crowds gathered at the Ocean Village marina complex for live entertainment and an air display, culminating in the race prize-giving ceremony.
Related Internet Links
The BBC is not responsible for the content of external sites.