Teenage cancer unit set to open at Southampton General Hospital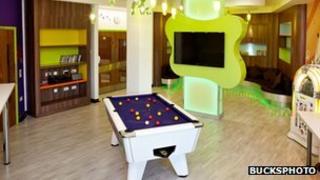 A cancer unit for teenagers will be opened at Southampton General Hospital next year.
The unit, designed by charity Teenage Cancer Trust, has been approved by University Hospital Southampton NHS Foundation Trust.
Cancer patients aged between 16 and 24 living in Hampshire, Dorset, the Channel Islands, South Wiltshire, Isle of Wight and parts of West Sussex will be treated there.
It will cost £2.4m to build and set up.
The 10-bed facility will have six en suite inpatient bedrooms so that family and friends can stay over.
There will also be four day care spaces, social and recreation areas with a kitchen and dining area, and a family sitting room.
Louise Hooker, Southampton's Teenage Cancer Trust lead nurse, said young patients would benefit from an environment specifically designed for them.
The Teenage Cancer Trust has 21 similar units across the UK and a plan to build a further 10.