Harry Potter game Quidditch marks Olympic torch relay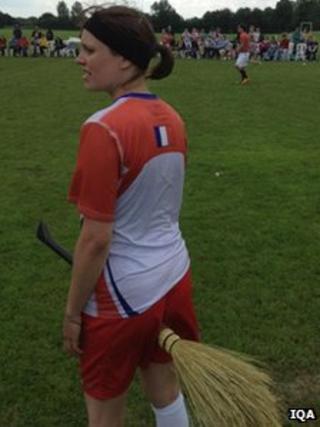 Quidditch - the game made famous by the Harry Potter stories - has been "played" in Oxford ahead of the arrival of the Olympic torch.
Teams from Australia, France, United Kingdom and the US took part in the two-day tournament.
The final, which was won by the US team, was part of Oxford's Olympic torch relay celebrations in South Park.
Leah Farrar, of the International Quidditch Association, said it was the UK's biggest Quidditch event to date.
In JK Rowling's best-selling books, Harry Potter and his friends play the game while flying on broomsticks.
Ms Farrar said: "For obvious reasons we can't fly but it's a very physical, intelligent and complex sport."
The event featured national teams competing in Cutteslowe Park before the top two teams faced each other during the torch arrival celebrations at South Park on Monday.
Local children were also given a chance to learn the sport in a "kidditch" match.
Quidditch rules are adapted from accounts of the sport in the books, with seven-person teams using broomsticks.
Ms Farrar admitted it would be some time before it could be an Olympic sport.
"Maybe one day, we're still learning and having fun, but it's good to be part of all the celebrations surrounding the Olympic torch."