Beach torso: Lower half of body found at Southsea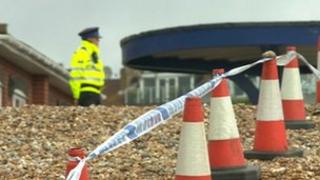 Police investigating the discovery of a torso on a Portsmouth beach have found the lower half of a body.
It was found on rocks at low tide in front of Castle Field, Southsea, just after 08:00 BST.
A torso, without head, arms and legs, was found in a bin liner by a group of foreign students at Southsea on Tuesday evening.
A 46-year-old from the Portsmouth area was arrested on Thursday night and remains in police custody.
Police said the latest body part found was from the waist down, including the legs.
The body has now been identified and officers are informing next of kin, they said.
Det Ch Insp Dick Pearson said: "Despite this morning's discovery, which is connected to the investigation, other body parts and items linked to the murder remain outstanding."
Anyone who notices suspicious packages, possibly wrapped in black bin liners, in the area has been urged to contact police immediately.
A post-mortem examination carried out on Wednesday was unable to determine an exact cause of death, but a police spokeswoman said the victim had been "subjected to a sustained and violent assault".