Oaklands swimming pool closure plan sparks anger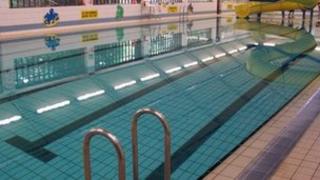 A mother has criticised plans to close a swimming pool in Southampton amid budget cuts by the new Labour council.
Oaklands, on the Oasis Lordshill Academy site, is currently shut due to faulty pipework.
Investigations into an earlier leak showed it was unsafe and would require up to £500,000 of urgent repairs.
Hayley Woods said it was the only pool in the nearby area. The council's leisure chief said the move was due to "strained" budgets.
The proposals to close the pool are part of a drive to reduce the council's budget by £833,000 in the current financial year.
Other problems with the pool, which costs about £250,000 a year to run, include roof materials regularly falling into the water and an ageing plant room.
Mrs Woods added: "Oaklands pool has more than 70,000 users a year.
"My children have swimming lessons here, as do 400 other children. Where are we supposed to go now?
"It is the only council pool left in the west of the city."
'No pleasure'
She also pointed out the pool was used by more than 15 schools as well as swimming and fitness groups.
Warwick Payne, the council's cabinet member for leisure, said: "As a former Oaklands Community School pupil, who swam his first mile in this pool, it gives me absolutely no pleasure at all to propose its closure. This is an indication of just how strained the council's budget is at the moment.
"It is regrettable that we have had to take this decision, but in light of the £30m savings we have to make this year, it is in the best interests of the city as a whole to close Oaklands."
More than 33 full-time and part-time staff are employed at the pool.
In the short term, staff are being redeployed into other work and the council said it hoped that redundancies could be avoided.
The spending cuts will be debated by the council's cabinet on 10 July.
The full council will meet the following day to decide whether or not to proceed with consultation on the plans. A final decision is expected in September.