Shirley Towers inquest: 'Emergency should have been called sooner'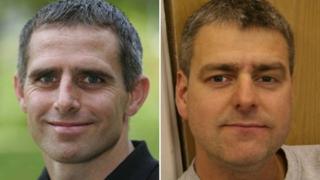 Hampshire fire service has admitted an emergency should have been declared earlier on the night two Southampton firefighters died.
Jim Shears and Alan Bannon were overcome by excessive heat inside flat 72 of Shirley Towers on 6 April 2010.
An inquest heard a "BA emergency" - meaning firefighters wearing breathing apparatus are in trouble - was not called until 21:08 BST.
The court heard a report concluded it should have been instigated sooner.
The jury at Southampton Civic Centre heard that radio controllers could not remember any contact with Mr Bannon and Shears since they entered the flat more than 25 minutes earlier.
Coroner Keith Wiseman read a passage from a report by Hampshire Fire and Rescue Service, which said: "Following a loss of contact with Red Team Two (Shears and Bannon) Red Team One arrived back at BA control in a distressed state at approximately 20:46.
"Procedures dictate this should have led to the initiation of a BA emergency.
"Realistically in this incident rescue efforts could not have been successful due to excessive heat but the BA emergency should have been instigated sooner."
'Hazy' memories
Martin Seaward, representing the FBU and the families of Mr Bannon and Mr Shears, told the inquest: "It is not conceded on behalf of the families that it would not have made a difference had it [a BA emergency] been declared sooner. That is a matter of opinion."
The inquest also heard from the entry control officer - the firefighter who monitors the number of firefighters entering a fire using breathing apparatus.
Rebecca Bryant said her memories of the order in which events happened that night were "hazy".
"There was a lot going on," she said.
"There were so many people queuing up, there were teams going in, coming out - lots of people all dressed the same, with the same kit and the same helmets."
Ms Bryant said she could not remember any radio contact with Red Two after they entered flat 72. But she told the inquest that was not unusual.
The court also heard how Ms Bryant had seen the first two-man team to go into the flat return. One of them had suffered badly burnt hands and was disorientated, and the other was warning of fallen cables.
After helping them she tried to contact Mr Shears and Mr Bannon but got no response.
Mr Seaward said while questioning her: "From the families perspective, early warning signs that something was going wrong were overlooked on that night."
Ms Bryant said she did not think Mr Seaward understood how busy she had been that night.
She told the inquest she believed she had done her job to the best of her ability and stood by her actions.
The inquest continues.