Endurance swimmer Anna Wardley completes Portsea Island challenge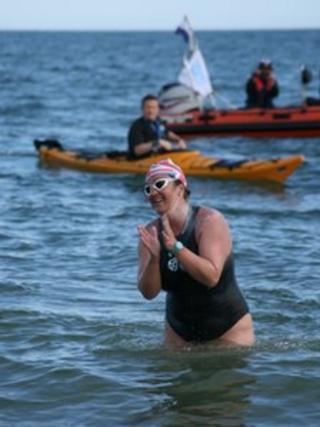 An endurance swimmer has successfully completed what is believed to be the first non-stop solo swim around Portsea Island in Hampshire.
Anna Wardley, from Gosport, completed the 13-mile (21km) route around the island in 7 hours, 20 minutes and 50 seconds.
The record is subject to official ratification by the British Long Distance Swimming Association (BLDSA).
It was part of a charity challenge to swim around five islands.
"It was absolutely amazing and I couldn't have hoped for better conditions," Ms Wardley said.
"Swimming through Portsmouth Harbour past the HMS Warrior and the Spinnaker Tower felt incredible. In fact I had to be careful not to get too distracted otherwise my support crew would have had stern words."
Ms Wardley negotiated her way through busy Portsmouth Harbour with the help of an MoD Marine Police Unit escort.
She said she kept herself energised by snacking on sweets and chocolate bars.
Last month she completed a swim around the island of Dragonera off the south-west coast of Mallorca.
She will complete the final three swims in her five-island challenge next year, with swims around Jersey, Tiree in the Inner Hebrides and the Isle of Wight.
Money raised will go to the Samaritans, Toe in the Water, which helps injured servicemen take part in competitive sailing, and Sail Africa, which offers sailing courses for young people in South Africa.