Wimborne town crier's handbell is stolen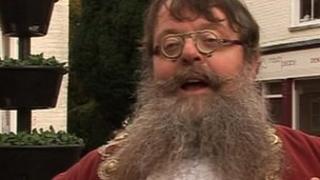 A Dorset town crier is appealing for his handbell to be returned after it was stolen.
Chris Brown, Wimborne's town crier, said the bell was in a bag which was taken while he was DJing in a pub.
The 11 inch (30cm) high military-issue handbell, which has an iron clapper, dates from World War I when it was used for gas attack warnings.
Mr Brown said: "It's extremely loud. I want to get it back, it's been everywhere with me."
The bell is used to accompany Mr Brown's "cries" around the town and at national and international gatherings.
He added that local scrap and antique dealers had been notified but the bell had little financial worth.