New Forest 'career burglar' with 50 years of offences jailed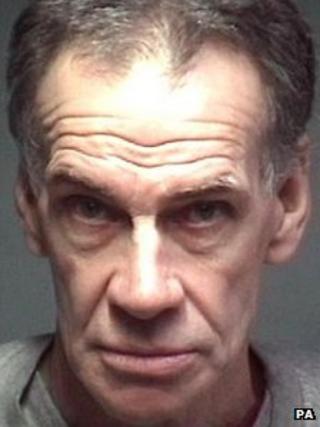 A "career burglar" with 250 convictions spanning more than 50 years has been jailed for five-and-a-half years.
In the latest spate of break-ins Simon Berkowitz, 65, targeted affluent areas in the New Forest in Hampshire netting £30,000, Winchester Crown Court heard.
Berkowitz, from East Sussex, admitted five burglaries, one count of going equipped to burgle and two counts of fraud on Thursday.
But police said the latest crimes are only the "tip of the iceberg".
Speaking outside the court, Det Con Robert Cox, from Hampshire Police, said he believed Berkowitz had committed thousands of thefts and burglaries over the years.
His latest crime spree was brought to end when a police officer saw him in Milford-on-Sea in Hampshire carrying a holdall.
The policeman had been sent on patrol in plain clothes in December 2011 as the burglary rate in the Lymington, Brockenhurst and Milford-on-Sea areas of the New Forest soared as Berkowitz carried out burglaries, the court heard.
When asked what was in the holdall, the burglar, born in Enfield, north London, replied: "I'd rather not say".
Inside were two crowbars, a gas-operated blow torch and a magnifying glass to examine the jewellery and silverware.
'Cold and calculated'
Berkowitz first appeared at Worthing Juvenile Court in 1961 aged 14 on a charge of larceny and was given a two-year probation order and ordered to pay 38p in costs.
Since then, his criminal record includes sentences totalling more than 40 years from Scotland to the Channel Islands and including Nottingham, Somerset, Wiltshire, Oxford, Devon and London.
Described by police as "cold and calculated with no conscience whatsoever", Berkowitz goaded his probation officers with a Christmas card he sent to them just before his arrest for the latest offences in late 2011.
The card depicted Santa Claus as a convict and said: "Have a super Xmas and remember: crime does pay, ask any MP or bent copper".
Jailing him on Thursday for five-and-a-half years, Judge Jane Miller QC also gave the burglar a concurrent sentence for going equipped and a further one year each, again concurrently, for the two fraud offences.
She said Berkowitz was a "career burglar" who had offered very little mitigation. "The only remorse you feel is to be sorry for yourself because you were caught," she said.