New appeal after student nearly blinded in Southampton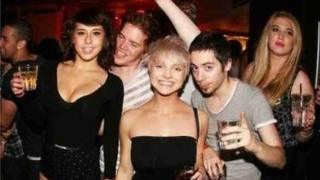 Update 5 February 2016: Annabelle Cook's conviction was overturned on appeal at Southampton Crown Court in May 2013.
A year after a "vicious attack" on a student outside a Southampton nightclub left her nearly blind, police have renewed their appeal for information.
Varenka Guillermoprieto, 22, suffered a stroke after the assault outside POP in Vernon Walk on 18 May 2011.
It left her blind in one eye and with very little vision in the other.
A 21-year-old woman from Surrey has been convicted of attacking her two friends but nobody has been charged over the assault on Ms Guillermoprieto.
'Suffered most'
She was attacked along with Samantha Weller, 21, and Lucy Gooch, 23, at about 00:40 BST after attending the student night event at the club.
Det Con Anton Gaita said: "So far no-one has ever been charged with the assault on Varenka who suffered most.
"A punch to her head caused her to have a stroke and it is has had a dramatic impact on her life as it has left her with very limited sight.
"I'm really hoping that this further appeal one year to the day that it happened may bring new witnesses forward who saw what happened on that night.
"They could provide that vital bit of evidence that could lead to an arrest and bring to justice the person responsible for the attack.
"I know there were lots of people in and around the club that evening - many were students - and they I'm certain there are some people who saw what happened and have yet to get in contact."
Annabelle Cook, from Kelvedon Avenue, Walton-On-Thames, was charged with assault by beating on Ms Weller and Ms Gooch and convicted in March.
She was fined and ordered to pay compensation and court costs totalling £525.
Another woman, aged 20, from Southport, Merseyside, was was cautioned for assault on one of the friends.