Dock fire dies down helped by wind and heavy rain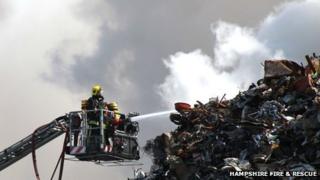 A large fire at Southampton Docks has died down helped by strong winds and heavy rain overnight.
Firefighters were called to the blaze involving 5,000 tonnes of scrap metal on Tuesday morning.
Crews are continuing to fight the fire but the operation has now been scaled down, a Hampshire Fire Service spokesman said.
Sixty firefighters have been dispatched to the scene since the fire began.
A fire service spokesman said: "Firefighting operations have progressed much quicker than expected overnight, helped by heavy rain and strong winds.
"The large smoke plume seen yesterday has now disappeared."
The fire began at the King George V Dry Dock, between dock gates 10 and 20, in Millbrook Road shortly after 09:00 BST.
Smoke could be seen billowing across the A33 Millbrook Road West near the junction of Millbrook Point Road.
Firefighters from Basingstoke and Southsea fire stations were at the scene overnight and operations will now be scaled down.
Crews have been fighting the fire using ground monitors, compressed air foam appliances, aerial ladder platforms and a high volume pump.
The fire service is investigating whether the blaze could have been caused by a chemical reaction.
No-one is believed to have been hurt.