Car crashes into house in Chandlers Ford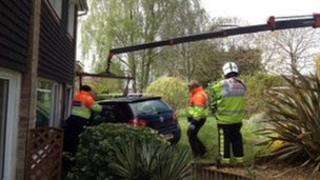 A motorist whose car careered off the road and ploughed into a house in Hampshire has escaped serious injury.
Police said the woman lost control of her car and hit the three-bedroom detached home in Beresford Gardens, Chandlers Ford, just after 09:30 BST.
The female resident, who was inside the house at the time of the crash, was also unhurt.
Her neighbour John Bidgood, who was looking after her, said she was "shook up" but "recovering well".
'Very lucky'
Mr Bidgood, an ex-police and fire officer, called the emergency services and assisted the woman in the car.
He said: "I was in the study and I heard this almighty bang, looked out of the window to see this blue car had hit next door's building.
"The female in the vehicle was very lucky that the airbag deployed and obviously the seatbelt held up, so she was very lucky to get away with it."
Structural engineers have been checking the house and an investigation has begun.