Dock fire: Firefighters will be tackling blaze for days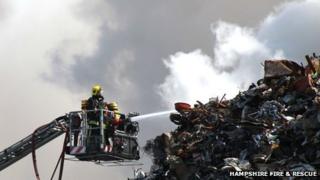 Firefighters believe they will be battling a large fire at Southampton Docks for the next few days.
Crews were called to King George V Dry Dock in Millbrook Road shortly after 09:00 BST where about 5,000 tonnes of scrap metal were alight.
Smoke was seen billowing across the A33 Millbrook Road West near the junction of Millbrook Point Road.
"I think we'll be working on it for the next few days," said a spokesman for Hampshire Fire and Rescue service.
"There will still be a lot of smoke coming from it over the next few days but hopefully it won't be as bad as it has been and we will get some rain that will help dampen it down.
"I'm not sure we will ever know what started this fire, but one theory is that there's a certain kind of metal that reacts with salt water and that could have caused the fire."
Five pumps and two aerial ladder platforms were dispatched to the scene of the blaze, between dock gates 10 and 20.
No-one is believed to have been hurt.
The fire service said much of the smoke was being blown towards the sea but residents near the fire are being advised to stay indoors and to close doors and windows.