Tributes to New Forest campsite girl Isabelle Harris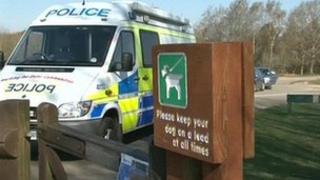 The parents of a six-year-old girl who died at a campsite in Hampshire have said they are "absolutely devastated" by her death.
Lee Harris, 30, and wife Tracey, 40, said Isabelle was "a really special girl and this is a huge loss".
Ambulance staff called to the Holmsley campsite in the New Forest early on Friday found the girl "fitting". She then went into cardiac arrest.
Hampshire Police said post-mortem tests showed the death was not suspicious.
Murder arrests
They are treating it as a "tragic incident".
Mr and Mrs Harris, from Gosport, Hampshire, were arrested on suspicion of murder after the death but later released.
They said in a statement: "We are all absolutely devastated about what has happened.
"No words are strong enough to describe how we feel at the moment.
"Isabelle was our whole world; everything we ever did was for her."
The couple added: "Our thanks also go to Hampshire Constabulary.
"We thank them for the way they have treated us, being as open and honest as they can.
"We also appreciate their ongoing support and have no issues with their actions."