Residents' concerns over New Forest traffic-calming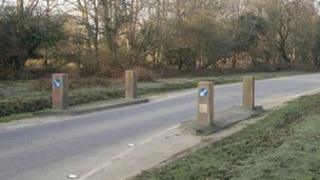 New Forest residents want the removal of wooden posts aimed at slowing traffic to prevent animal deaths.
They say the "pinch points" along the Burley Road, near Brockenhurst, are "death threats".
Nine pine posts were concreted into the road at intervals by the council for a trial scheme in September 2010.
The council said a speed survey indicated speeds had lowered since the introduction of the pinch points.
'Unlit obstructions'
There is strong support from residents to reduce traffic speed along the road. But more than 40 letters and emails have been sent to the council highlighting the alleged dangers of the pinch points.
Resident Allan Hendry said the pinch points were "unlit obstructions placed into an unlit curving and undulating roadway".
He said: "They shouldn't effectively be a death threat to somebody who might make a small mistake. A motorcyclist doing 20mph could easily kill themselves as they are at chest height."
The New Forest National Park Authority said evidence showed most animal accidents were caused by local drivers who drove along the same roads regularly.
Commoners - forest residents with rights attached to their property who own much of the livestock grazing in the forest - have called a meeting with the authorities to discuss measures to reduce cars speeding.
The New Forest National Park is open countryside with no fences, and has a 40mph limit.
Nearly 70 animals - including 48 ponies - died on forest roads last year.
About 4,000 ponies, all owned by the commoners, wander freely around the 141,097 acre (571 sq km) New Forest National Park.