Titanic survivor's grandson hails Southampton's sea museum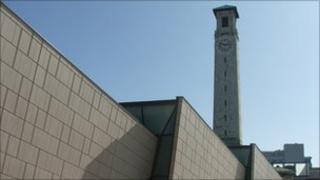 The grandson of a Titanic survivor was among the first visitors to Southampton's new £15m SeaCity Museum.
The museum opens on 10 April, exactly a century after the Titanic set sail from the city on its doomed maiden voyage.
Philip Littlejohn, whose grandfather Alexander James Littlejohn was a Titanic first class steward, said it will "keep the story alive for years".
It will celebrate Southampton's maritime heritage and those who have travelled in and out of the city.
Work began on the museum in October on the site of the former law courts.
Set to form the centrepiece of Southampton's cultural quarter, the Havelock Road building has been part funded by a £4.9m grant from the Heritage Lottery Fund. Southampton City Council has raised the remainder of the money.
Before the official opening, Friends of Southampton Museums and descendants of the Titanic's survivors were shown around the building this week in a series of special previews.
'Good quality attraction'
Museum consultant Sarah Davis, who has been involved with the exhibition since its creation, is looking forward to welcoming an estimated 160,000 visitors during the first year.
She said: "Southampton has been crying out for a good quality visitor attraction like this for a long time.
"In the past, people have just passed through the city either to or from a cruise ship and haven't really had chance to look around and see what's on offer.
"This should give them a great chance to learn more about Southampton's heritage and make it a destination in its own right.
"The opening is very timely with the 100th anniversary of the Titanic's voyage next month. I'm very excited as it's bringing the story to a new generation, telling you about the passengers and crew and the effects the disaster had on Southampton."
Mr Littlejohn said: "The 100th anniversary is really capturing the public's interest in the story again like it did when James Cameron's film came out in 1997.
"Exhibitions like this will introduce children to the story and if you can capture their imagination at a young age, it helps keep the story alive for years to come."