HMS Liverpool returns to Portsmouth base for final time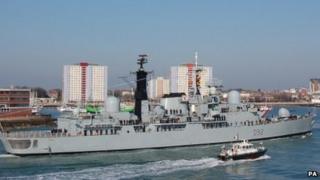 HMS Liverpool has made its final return to its home port of Portsmouth.
The Type-42 destroyer, which has travelled more than 921,700 nautical miles, will be decommissioned on Friday and replaced by the new Type-45 class.
Commanding officer Capt Colin Williams said it had played a pivotal role and was "an important part of our history".
The ship returned from its final task supporting HMS Illustrious and Bulwark in winter war games in the fjords of Norway.
Prince Charles and King Harald V of Norway visited the ship's company during the exercise.
'Extremely proud'
Built by Cammell Laird at Birkenhead, HMS Liverpool was commissioned in 1982 and was stationed in the Falklands shortly after the conflict.
It also took part in the First Gulf War as an escort to aircraft carrier HMS Ark Royal.
Last year, it played a significant role in the blockade of Libya and became the first Royal Navy ship to be fired upon since the Falklands conflict.
It returned fire 10 times and launched 211 rounds of illumination and high explosive shells from its 4.5 inch gun.
Capt Williams added: "She's been a real workhorse. The ship's company is extremely proud to have served on her.
"I particularly have extremely fond memories of her, she has been involved in pretty much all of the major events in the maritime world in the last 30 years.
"She's an important part of our history.
"Every ship has a life span and it is with great pride that we make way for the new Type-45 destroyers and the enhanced capability they bring to today's Royal Navy."