E-fit issued of Longparish couple's 'hate campaigner'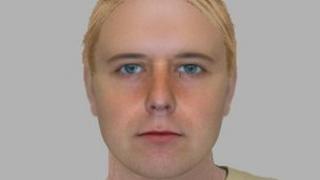 A dog has been shot dead, its owner assaulted and his wife confronted by the same man during a hate campaign in Hampshire, say police.
The attacker with "piercing eyes" has carried out the acts in the garden of the couple's home in Longparish.
He struck the man, 60, over the head, on 8 February, and the dog was shot with an airgun, last July.
Police said his wife was confronted on 28 July, in a "harassment campaign", which began in December 2010.
The Hampshire force said the man is not known to the couple and conceded that they do not know if there is a motive, but said they were "keeping their options open".
'Balaclava used'
An e-fit of the man, who is perhaps German, has been released. He is described as white, of athletic build, aged in his 30s, about 6ft with blond hair and piercing eyes.
He was carrying a cosh, which was light-pine coloured, thinner at the holding end and about 14in long and 2in in diameter, and wearing clear/light latex gloves.
Det Sgt Russ Hodges, of Hampshire Constabulary, said: "We have no information to suggest that any other residents of this village or neighbouring villages are at risk at this time.
"It may be that this man has been seen previously in a balaclava around the area, wearing blue plastic gloves and with a pedal cycle which may have been used across open countryside around this location."
Anyone with information is asked to contact police.