Tsunami survivors to open orphanage in parents' memory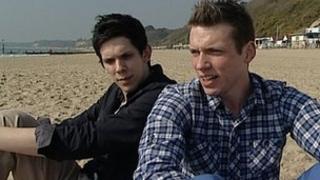 Two brothers from Hampshire, who lost their parents in the 2004 Boxing Day tsunami, are hoping to open an orphanage in their memory.
Rob and Paul Forkan, from New Milton, were on holiday in Sri Lanka when the disaster struck.
Their parents, Sandra and Kevin, died while saving their younger children.
The brothers have set up a business selling flip flops and aim to raise money to build an orphanage in Goa, India, as a tribute to their parents.
The Forkan family, who moved to Goa in 1999, had been spending Christmas in Sri Lanka when the tsunami struck early on the morning of 26 December.
Paul, 22, said: "A small wave came in, took the door down and went back out.
"We went out the front, then all of a sudden a big one just came. I can't explain the force. I still can't believe that water can be that powerful."
He was saved from falling into electricity cables by his brother.
Their parents managed to save their younger children, Matt and Rosie, but became separated from them and died later.
The four children were eventually reunited and headed inland to safety.
'Own beliefs'
The brothers set up the sandal company using the brand name Gandys Flip Flops in 2011 and currently donate 10% of their profits to an existing orphanage in Goa.
Rob, 24, said: "It started off as a small project, but after all the experiences we've had we wanted to have a bit more of a purpose to it and build a brand based on our own beliefs."
They now aim to raise enough money to set up another orphanage in the Indian state in time for the 10th anniversary of the tsunami.
He said: "We want to make sure it's sustained for the long term so we've been learning what it takes to run an orphanage, what the costs and the challenges are.
"You can sit around dwelling on the past, but we had a wonderful upbringing and we want to carry on and go out and start a new chapter in our parents' memory."