Wedding couple tell of Isle of Wight castle fire drama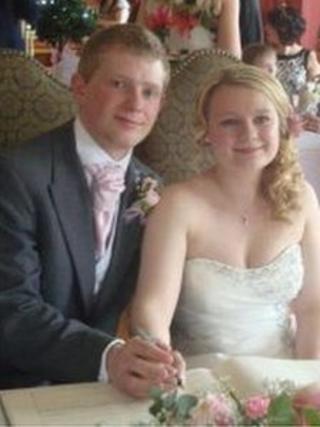 A bride and groom told how they were left with just the clothes on their backs after a fire ripped through their "fairytale" venue on the Isle of Wight.
Robert and Alex Ballard escaped from the blaze, at Ryde Castle Hotel, along with their 50 guests on Saturday.
The couple from Hampshire lost wedding gifts in the blaze, which is thought to have been sparked by fireworks.
The newlyweds and their guests caught a ferry back to Portsmouth as six fire crews tackled the blaze overnight.
The fire caused the 18-bedroom hotel, which overlooks Ryde Esplanade and Harbour, to partially collapse.
Owner Greene King said: "It certainly appears possible that the fireworks were the cause but we will have to wait for a full investigation by the fire service to be completed to get all the facts."
A spokesman for the Isle of Wight Fire Service said the extent of the damage to the roof would make reaching a definitive conclusion problematic.
Mrs Ballard, 21, told how they had "fallen in love" with the venue after seeing it advertised on the internet and went about organising the £6,000 wedding.
She said: "We thought it was perfect, a fairytale venue so we both saved for about a year-and-a-half to pay for it.
'Panic attack'
"The day was fantastic, it was so perfect I cried a little. We had the fireworks from the roof top then everyone went back into the function room for a disco and buffet."
The couple, from Gosport, recalled how a fire alarm was activated while they were on the dance floor.
Mr Ballard, 23, said: "The hotel staff said there was no fire in the building and suspected a guest had set the alarm off for a joke.
"But then it began ringing again five minutes later and the staff said everyone had to get out."
Alex's matron of honour Jo Green said: "I went to get Robert's eight-year-old niece Emily-May out of bed - everyone was panicking.
"No one knew what was going on downstairs but upstairs we could see the smoke."
Mrs Ballard said: "I just picked up my two-year-old daughter Lilly and left the castle. At first it didn't seem to be a big fire but it just got worse and worse. I didn't know if my dad had got out OK at the time.
"Thankfully no one was injured but we've probably lost our wedding certificate, about half of our wedding presents and all of the belongings we had with us, as have our guests."
By midnight, the wedding party was given shelter at nearby St James's Church, which supplied bedding for the children and cups of tea for the adults.
Mrs Ballard was also handed a set of pyjamas to allow her to change out of her £400 wedding dress.
By about 02:30, the guests were on a boat back to the mainland after the Isle of Wight Council paid for taxis and Wightlink paid for the ferry tickets.
Mrs Ballard said: "Everyone was so kind. The church provided us with tea and coffee, blankets as well as milk and nappies for Lilly and pyjamas for me so I could take my wedding dress off.
"We finally all got back to Robert's dad's house in Gosport at about 4am.
"It feels like two different days, before the fire it was perfect then it was disastrous. I know they say you want a day to remember but not like that."
The couple, who did not take out wedding insurance, do not blame anyone for the fire.
Mrs Ballard said: "It was just unfortunate. Everyone on the island including the hotel staff have been so helpful."
Mr Ballard, who works as a driver, added: "I feel like our wedding day has been stolen from us."