Winchester Cathedral defends admission fee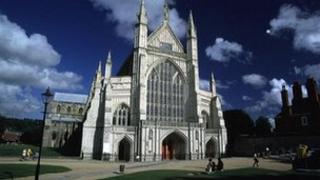 Winchester Cathedral has defended its use of charging admission fees as an essential way of paying for the upkeep of the building.
Out of 53 cathedrals which responded to a BBC survey, 11th Century Winchester in one of nine which imposes a compulsory charge rather than rely on voluntary donations.
The cathedral now charges £6.50 for an adult admission and £10 for an annual pass in an attempt to meet the £7,000-a-day running costs of the building.
Cathedral spokesman Simon Barwood said: "It is to make sure we have sufficient funds to maintain these fantastic buildings for the future, for people to come to visit and attend services.
"We don't actually receive any significant state aid to be able to do so, unlike many of the continental countries.
"We've got this huge building to maintain. Hundreds of thousands of pounds each year has to be spent on ongoing maintenance, yet alone if anything specific needs to be done in an emergency, or if we have any projects to improve the facilities we have in the cathedral."
Winchester's charges were introduced in 2006. In neighbouring Salisbury a "requested voluntary contribution" of £5.50 is asked for, while St Paul's Cathedral in London charges £14.50 for an adult admission.
Mr Barwood insisted that the charge was confined to tourists and visitors - out of about 300,000 annual visitors to the cathedral, only about 110,000 have to pay an admission charge.
Anyone attending a service, praying or lighting a candle is not charged and concession charges and annual passes are also available.
'Remaining relevant'
The cathedral says it needs almost £9m for maintenance and development over the next decade.
In a bid to boost the visitor numbers, the cathedral is using modern tourism marketing methods and staging events, including an annual Christmas market which attracts 350,000 people to the Cathedral Close. More than 6,000 people receive updates from the cathedral on Facebook and Twitter.
Charlotte Barnville, from the cathedral's marketing department, said: "The cathedral has been the centre of the community for 1,000 years and it has to reinvent itself and find new ways of remaining relevant.
"Events are becoming much more important. We've always have thousands of people coming to our Christmas services but our Christmas market has transformed our Christmas 'offer' and the whole package together firmly puts Winchester Cathedral at the centre of our Christmas activities."