Headbourne Worthy Bronze Age ring declared treasure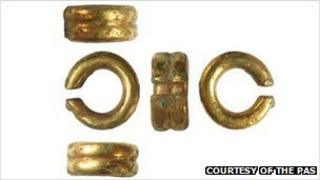 A Bronze Age gold ring found in a Hampshire field has been declared as treasure by a coroner.
The 3,000-year-old double ring was found by Winchester artist Alan Cracknell in February 2010 in a field at Headbourne Worthy.
He was using a metal detector and thought the artefact was an old bottle top when he first picked it up.
Following the ruling at Winchester Coroner's Court, ownership of the ring passes to the Crown.
Share a reward
The ring is only 16mm in diameter and experts believe it was probably used to hold hair together 3,000 years ago.
Mr Cracknell said: "I think that's what's so fascinating is its age. It's been tossed around in the plough soil for many hundreds, thousands of years and it's still in the same place that it was lost."
It will now be valued by the British Museum and Winchester Museum is hoping to buy the ring.
Mr Cracknell and the landowner will share a reward based on the value.