Isle of Wight Council to invest in tidal power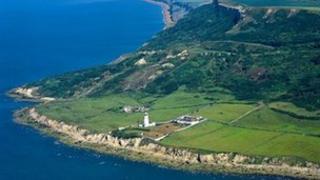 The Isle of Wight Council wants to create a multi-million pound tidal energy facility off its coast to supply the island with electricity.
The authority has already pledged £1m towards creating the Solent Ocean Energy Centre off St Catherine's Point on the south of the island.
The £1m has been matched by private sector investment, which will fund phase one of the scheme, to get the licences and consents for the site and seabed.
Phase two, to build a test bed and demonstration site, is expected to cost in the region of £21m, but two applications for government Regional Growth Funding in 2011 have already been turned down.
The success of the project now hinges on private sector investment.
Revenue and jobs
John Metcalfe, deputy director of economy and tourism at the site, said: "We have already got an agreement in principal with between 10 and 12 companies interested in the project. We've got companies committed from Canada, Finland as well as the UK."
The council has been working with the University of Southampton to gauge the potential of the project and it hopes, by 2014, private sector companies will begin basing their own tidal energy equipment at the site, generating revenue for the authority and jobs for islanders.
Stuart Love, the council's director of economy and environment, said: "We have been working very closely with Southampton University to demonstrate that there is the potential off our coast, not only to generate enough power for the island and more, but to create 700 jobs in the Solent region and up to 5,000 nationally so that is a significant impact on our economy.
"One of our key focuses as a local authority is trying to do what we can to boost the island's economy.
"We are proposing that we put money into this on the basis that in the long term that money will get paid back and once we have created the right environment the private sector will come in and will spend their money.
"The potential not just in terms of energy generation and sustainability for the island, but the number of jobs this will create and the impact for the UK's economy is massive."