Robert Sebbage stabbing: Mother's fight for information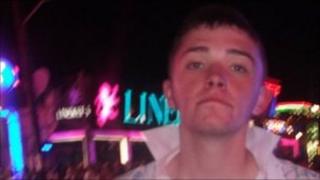 The mother of a Hampshire teenager who was fatally stabbed while on holiday in Greece said she has "hit a brick wall" in trying to find out about the case.
Rhian Sebbage told the BBC that the Greek authorities considered her to be a "third party" in the investigation because her son was 18 when he died.
Five people were stabbed at the Laganas resort on Zakynthos, also known as Zante, in July 2011.
Robert Sebbage, from Tadley, died and four others were injured.
Shortly after the stabbing, a 21-year-old man was charged with murder. A 25-year-old man was also charged as an accomplice.
'In limbo'
Mrs Sebbage said: "We have to bear in mind that the Greeks do things differently... but, as a parent, you just want to know what's happening.
"You just want to know is that person in prison and where is the case going to take place?
"We still don't don't know whether it will be in Athens, Zante or Pathos. You can't employ a lawyer until you know roughly where it's going to be because there's no point in hiring a lawyer in Athens if it's going to be in Pathos or vice versa. We're in limbo."
Mrs Sebbage, who was working nights when her son died, said she first learned he was in trouble when she received a phone call from her husband in the early hours.
She said: "I tried to ring Robert's mobile and it was just ringing and ringing.
"We didn't actually know that Robert had been killed until about half past five in the morning and you get told by the Foreign Office on the telephone.
"One of the hardest things we had to cope with was when we got to the airport - suddenly to be confronted with rows and rows of pictures of your son on the newspaper.
"It was really, really horrible."
When they finally arrived in Zante, Mrs Sebbage said her family was greeted by a "media frenzy".
'Grotty place'
She said: "We were put on to a bus which had to be locked and the curtains crossed because the media were just hounding us by this stage.
"We weren't allowed to go to the mortuary because the media wanted to take pictures of the grieving parents so we had to wait about 45 minutes for the police to clear the media away before we could go and see Robert.
"It's such a grotty place and nobody could prepare us for what we had to see - it was horrible.
"I think I screamed and then it was initial silence, then I think it turned into a laughing thing because Robert had sunburn down one side of his face, so we were joking about that, and then it suddenly hits you again about why you are there and then it is just complete numbness.
"I can't describe it - it was just horrific."
The teenager's funeral was held in St Mary's Church in Basingstoke in August.
Mrs Sebbage said: "I can't remember a lot about the funeral. I remember turning up. Walking past the media was quite horrific because this was our private time and suddenly we were in public.
"When we came out we couldn't go to the car because the media were just by the door and we were suddenly in a row having to greet all these people which wasn't quite the plan."
Mrs Sebbage said while in Greece, her family had been "well looked after" by the Foreign Office which had put her in touch with its Victim Support service but, under Greek law, the service is also counted as a third party and was not able to help her find out about the case.
She said she is continuing to fight for information and is trying to raise funds to hire a lawyer to represent her family when the case is heard.