Mother describes 'trauma' of son being taken in car theft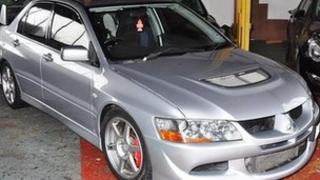 A woman whose sports car was stolen while her five-year-old son was in the back has described the "traumatic" experience.
The woman was driving in Waterlooville, Hampshire, when a BMW collided with her from behind. Two men got out of the car and argued with her over the damage.
One of the men then jumped into her Mitsubishi Lancer Evo and drove off.
The woman, who has not been named, was reunited with her son when her car was abandoned in Stakes Hill Road.
After the theft, the other man followed in the silver-coloured BMW and both were seen leaving in this car after abandoning the Mitsubishi outside a school.
They hit a Mercedes van before speeding off.
In a statement released by police, the 24-year-old mother told how she was driving home when the crash occurred at about 17:00 GMT on Thursday.
Relief 'indescribable'
"As I imagine anyone would do, I got out of the car to speak to the other driver, it never crossed my mind that while I was doing this my car would be driven away," she said.
"When this happened my first thought was for my son who was still in the vehicle."
The mother recalled how she "just panicked".
"Thankfully another driver stopped to help me and I thank him so much for this," she said.
"The relief of finding that the car had been abandoned with my son inside was indescribable. It was an amazingly traumatic incident."
Detectives have released a photograph of the Mitsubishi in a bid to jog the memories of potential witnesses.
Police are also appealing for a woman, driving a blue vehicle along Frendstaple Road behind the victim's Mitsubishi shortly before the BMW was seen, to contact them.
Car damage
Anyone who recalls seeing the Mitsubishi at the time is also asked to come forward.
The Mitsubishi is still being examined for possible forensic evidence by specialist scenes-of-crime officers.
Both suspects are described as white, aged in their early 20s, 5ft 6in, and have short dark hair. One was wearing a light-coloured top and dark trousers while the other had a dark-hooded top on and dark bottoms.
One witness reported that the BMW had a partial registration plate of HY57.
The car is also believed to have damage to its front end after colliding with the Mitsubishi and the Mercedes.
Nothing was reported stolen from the Mitsubishi.