Ringwood house fire spreads to neighbouring properties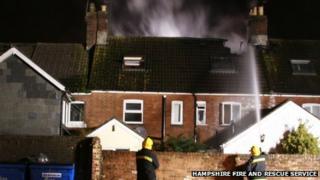 Dozens of firefighters have tackled a large fire which started in the roof space of a home in Hampshire and spread to neighbouring properties.
All occupants of the homes in New Street, Ringwood, managed to flee unharmed before fire crews arrived just after 18:30 GMT on Sunday.
About 60 firefighters fought the blaze, which is under investigation, using water jets and breathing apparatus.
The roof space of the two-storey terrace home was completely gutted.
'Worked very hard'
The first floor also suffered extensive water damage.
The roof space of the second property suffered 75% fire damage while the third home was slightly damage.
Group manager Shaun Rowlatt said: "On arrival, the initial crews were faced with a roof fire, well alight.
"The fire crews continued to tackle the blaze for several more hours to contain it and prevent further spread along the row of terraces.
"Firefighters... worked very hard indeed and I am very proud of their efforts. "