Bison to be bred at Hampshire wildlife park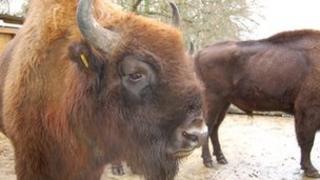 A wildlife park in Hampshire is looking to start a captive breeding programme for Europe's largest mammal, the European bison.
The New Forest Wildlife Park has taken delivery of three young males.
It now has to find suitable females for the males, Janek, Wotjek and Leszek, to allow it to breed its own herd.
A spokesman said: "It's great to bring this animal back to the New Forest and to think that these young males will be helping to increase the population."
The park's bison are all aged between three and four years old and could grow to be 3m long, 2m tall and weigh up to 900kg.
The European bison (Bison bonasus) is Europe's heaviest-surviving land mammal and was extensively hunted after World War I.
By 1919 there were none were left in the wild.
The surviving 54 animals remained in zoos and private collections. Of these, just four bulls and three cows went on to found the current pure-bred population.