Charles Dickens' birthplace of Portsmouth marks anniversary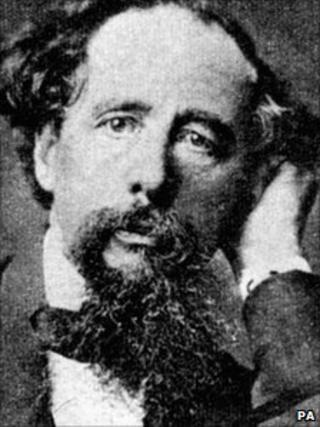 "I was born at Portsmouth, an English seaport town, principally remarkable for mud, jews and sailors," wrote Charles Dickens in 1838.
The world famous author may have moved to London at the age of three, and later to Kent, but his family's links to the south coast are undeniable.
With the 200th anniversary of his birth on Tuesday the city is gearing up for a host of events to celebrate one of their most famous sons.
And plans are in place to erect a statue of the great man in the summer, sparking a debate over whether he would have approved.
The story of Dickens began when he was born in a house in Mile End Terrace on 7 February 1812, where his family paid an annual rent of £35.
'Intimate city'
This showed they were "quite well to-do", according to historians, but not at the top of the social ladder.
Dickens' father managed the Royal Navy pay office between 1807 to 1815 and it would be the navy which would link future generations of the family.
The family moved twice within the city before moving away, eventually settling in Kent where he would become synonymous with Rochester.
But a number of Dickens' descendants would later join the navy and live in homes across Portsmouth and its neighbouring towns.
While Dickens' first love Maria Beadnell and his mistress Ellen Ternan are buried at the city's Highland Road Cemetery.
Ian Dickens, the writer's great great grandson, has also been drawn to the city.
"Work brought me here, but instantly I felt at home," he said.
"It is a very intimate city, maybe because it is on an island, and it is a city with a huge amount of personality and pride."
The area where Dickens was born has since been renamed the Charles Dickens ward by the council, listed as one of the most deprived areas as Portsmouth.
But as Ian, whose lists his favourite Dickens' book as The Pickwick Papers, admitted: "I think he would much prefer to have his name put to a ward like that than to be associated with some grand regency facade of multi-million pound apartments.
'Unassuming person'
"He wasn't a pompous person, he was a very self-effacing, an unassuming person and cared passionately for his fellow man."
Tuesday will see a host of events in Portsmouth, including a procession of school pupils and readings by actors Sheila Hancock and Simon Callow.
But it was the plans for a statue which caused a stir among Dickens fans.
In his will the Victorian author requested that no statues or monuments of him should be built.
But as Ian explained: "Within that passage he says I don't want anybody to make a monument for me, he is clearly talking about his grave.
"I can't believe he would be so arrogant to say that my work is so phenomenally successful that people in generations [to come]... will put up a statue and I will write now that I don't want that."
Portsmouth may not have as big a claim to Dickens as the likes of Rochester, where he based many of his novels, but it has always felt a true bond.
And this was never demonstrated better then in 1928 over a novel by Carl Roberts' depicting Dickens.
A Sunday Times review said it painted the author as a "hypocrite, philanderer, selfish, an egoist, vulgar, morose, and avaricious".
The portrayal offended Portsmouth so much that the city decided to ban the book from its library.
But ahead of the anniversary, the council decided the time was right to reinstate the novel and focus on the legacy of Dickens, who only wrote about his birthplace once - in his Nicholas Nickleby novel.