Free tickets for Southampton SeaCity Museum criticised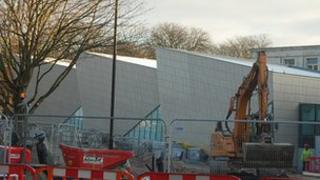 Plans to give Southampton residents free tickets to a new museum have been criticised by opposition councillors.
The proposal for the SeaCity museum should not be a "priority" as the council faces making £76m cuts, the Labour group said.
But, the leader of the Conservative-run council, Councillor Royston Smith called it "a good investment".
The authority said it would cost it about £80,000 in lost revenue. The £15m museum still lacks £5m in funding.
Under the scheme, every household in the city will receive a family ticket, worth about £25, to visit the council-owned museum.
Councillor Richard Williams, leader of the Labour opposition group, said it could cost up to £2.5m if everyone eligible took up the offer of free tickets.
Titanic disaster
"It's very nice for people, but at a time when the council is making £76m of cuts, making people redundant and cutting services, I don't think this should be a priority," he said.
He also said it would reduce revenue to the museum and added the "timing was curious", given the attraction is due to open shortly before the local elections, in May.
The museum is due to open on 10 April, 100 years after the ill-fated Titanic sailed from Southampton on its maiden voyage. More than 550 people from the city died in the disaster.
The council said it hoped the giveaway would boost future income by repeat visits and people recommending the museum to family and friends.
Mr Smith said: "It's the people's museum. Everyone, who ultimately owns the museum, should be able to come for free at least once.
"This is about the people of Southampton, many of whom are relatives of people who died on the Titanic."