Hampshire Police Federation criticises PC pursuit case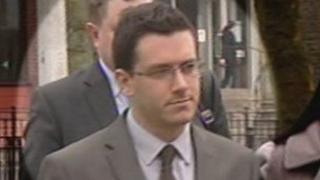 A traffic officer involved in a high-speed pursuit was "prosecuted for doing his job," the chairman of Hampshire Police Federation has said.
PC James Holden, who was cleared on Wednesday, had been accused of putting the public at risk by pursuing a stolen van through Portsmouth last February.
John Apter said PC Holden, 35, had had "12 months of hell" as a result of his prosecution for dangerous driving.
"What happened to James was wrong, he did what he was trained to do."
Although it is the Crown Prosecution Service which chooses whether to bring charges, Mr Apter said: "I urge the chief constable to review this investigation root and branch.
"For [PC Holden] to perform a pursuit and then be on the wrong end of a police investigation because of that just can't be right."
Hampshire Constabulary said: "The circumstances of the pursuit were reviewed and the decision made by the Crown Prosecution Service to charge."
'Ultimate sacrifice'
During the pursuit on 6 February 2011, the van, taken by a 19-year-old man with 145 previous convictions, was driven at high speed through several red lights and the wrong way along the A3 dual carriageway.
The van crashed through a railway barrier in Cosham before being stopped by another police patrol on the other side of the railway.
During the trial, the jury was shown footage of the pursuit taken with a camera fitted inside PC Holden's vehicle.
Mr Apter added: "PC Holden is a highly trained advanced police driver.
"He brought somebody to justice and he faced potentially the ultimate sacrifice.
"No police officer is above the law, but James has been prosecuted for doing his job.
"That has sent alarm bells across officers - we need to ask why we came to be in this position."
It took a jury at Guildford Crown Court two hours to clear PC Holden of any wrongdoing.
After the verdict, Hampshire Constabulary said: "It is important that the justice system is transparent and that police officers are subject to the same scrutiny as members of the public."