Gosport podiatrist's confidential records laptop stolen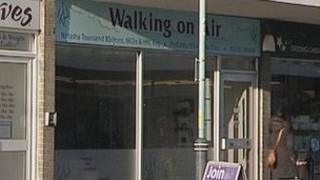 A laptop containing personal and medical information of up to 1,500 people has been stolen from a podiatry clinic in Hampshire.
The Zoostorm laptop, containing unencrypted data, was taken from the Walking On Air clinic in Gosport on Tuesday.
Podiatrist Natasha Townsend said the laptop did have a password.
The Information Commissioner's Office (ICO) said it would investigate the loss of the computer.
Ms Townsend said: "It's got personal information on it but mostly all my medical patient notes which I need.
"I didn't really know much about encryption and things like that. I'm not very good with computers."
ICO spokeswoman Dawn Monaghan said: "We always investigate breaches that are brought to us.
"Medical records in the terms of the data protection act are considered to be sensitive personal data and, over the past 18 months, about 40 of the investigations we have looked into have been relating to mobile devices that have been lost."
Ms Monaghan said organisations were covered by the Data Protection Act and must take measures to ensure that data is not lost, damaged or destroyed.
She said organisations should be aware of data encryption techniques and have procedures in place so equipment containing data is not lost in the first place.
Hampshire Constabulary said it believed the laptop was taken by an opportunistic thief and appealed for information.