Southampton's 'oldest film' reshot in city centre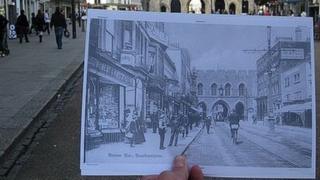 Archive footage of Southampton from more than a century ago is being reshot later as part of a project to raise awareness of Hampshire's museums.
The original film from the 1900s, thought to be the oldest moving pictures of Southampton, shows the high street shot from a moving tram.
The Heritage 100 project is using mounted cameras moving along the route of the trams to recreate the footage.
Organiser Douglas Noble said it would "highlight the changes" over a century.
The original footage, which lasts for about three minutes, shows landmarks and buildings that were destroyed in the blitz during World War II.
The tram took a route from Below Bar, through the Bargate monument to the town's parks. The last tram in Southampton ran in 1950.
Mr Noble said: "There are differences in peoples' dress, the shopfronts and there are more independent shops,
"But other things haven't changed. It'll be interesting to juxtapose the two eras."
Filming is due to take place on Monday afternoon. The new material will be put online alongside the original footage as part of the project to highlight contents of Hampshire's museum collections.