Duchess of Cornwall presents medals to navy medics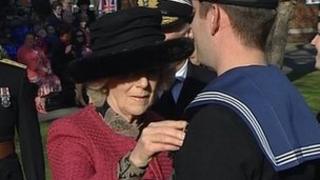 Royal Navy medical personnel who served in Afghanistan have been honoured in Portsmouth.
The Duchess of Cornwall presented campaign medals to more than 200 military medics at HMS Excellent, Whale Island.
Between April and October 2011 they provided medical care at Camp Bastion hospital in Helmand province.
As part of Operation Herrick, more than 3,600 coalition troops and Afghan civilians were treated by the medics.
As well as Royal Navy and Royal Marines medical staff, 18 Army and RAF personnel and three civilian NHS medics were honoured during the ceremony.
The hospital's Close Support Medical Regiment provided care to UK forces in Helmand, Kabul and Kandahar and accompanied about 10,000 foot patrols.
Among those receiving medals was Air Engineering Technician Michelle Ping, 38, from Sheffield who helped save the life of Highlander Craig Paterson when he was shot in the head by a sniper.
She said: "I didn't worry about myself, Craig was the most important person to me.
"It's ironic but it's his birthday today while I'm receiving my medal. I guess he wouldn't be celebrating if I hadn't been there to help."
Leading Naval Nurse Sarah Morris, 27, from Melksham, Wiltshire, said: "It's great to be back but I want to go again.
"It's a really great atmosphere, you feel that you have lots of support to get through everything."
The Duchess, who is Commodore in Chief, Royal Naval Medical Services, attended a reception for service personnel and their families.
She also inspected the band of the Royal Marines Commando Training Centre whose members were recently presented with their operational medals for their role as stretcher bearers in Afghanistan.
Surgeon Commander Stuart Collett said: "It's a great occasion, it's nice to be able to share the occasion with friends and family and have the work you've done recognised."