Southampton pianists scanned using new technique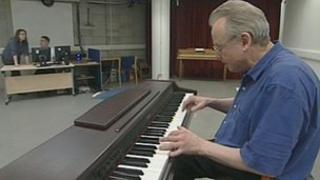 Musicians from Southampton are trialling a new technique to analyse the way they play the piano.
Academics at the University of Southampton developed the system using infra-red motion capture cameras to track the movements of pianists' hands.
It is hoped the Hand And Wrist Kinematics (Hawk) technique could help prevent pianists' injuries.
Dr Cheryl Metcalf said it could track the "nuances and idiosyncrasies" of individual pianists.
"We can look at the very fine movements of the fingers, hands, wrists and thumbs very accurately," she said.
The resulting images give an insight into the posture of each player's hands on the keys with experts hoping to show how movements translate into different sounds.
The technique is similar to those used to create special effects and animation in the film industry.
The Hawk technique, which has been patented by the university, will also provide new information on musicians' hand health, to combat wrist damage, repetitive strain injury or arthritis in pianists.
Prof David Owen Norris, from the university's music department, described the sensors placed on his hands and feet as "reflective little warts".
They allow cameras to pick up movements and mean he can watch his own hands from angles which he had previously never seen.
He said: "It's fascinating to watch pianists' hands. Audiences always want to see exactly what's going on with those flashing fingers and pianists look at hands too.
"We argue about the best ways to make certain sounds and we can now compare what different players do with their fingers and their wrists.
"It won't mean a sea change in the teaching of piano, but every additional light you can shine on the relationship between your eyes and your hands helps."
The university team is hoping to build an archive of different pianists' playing techniques from music students in Southampton and visiting concert pianists.